expertise > Architecture > Mass Timber Architecture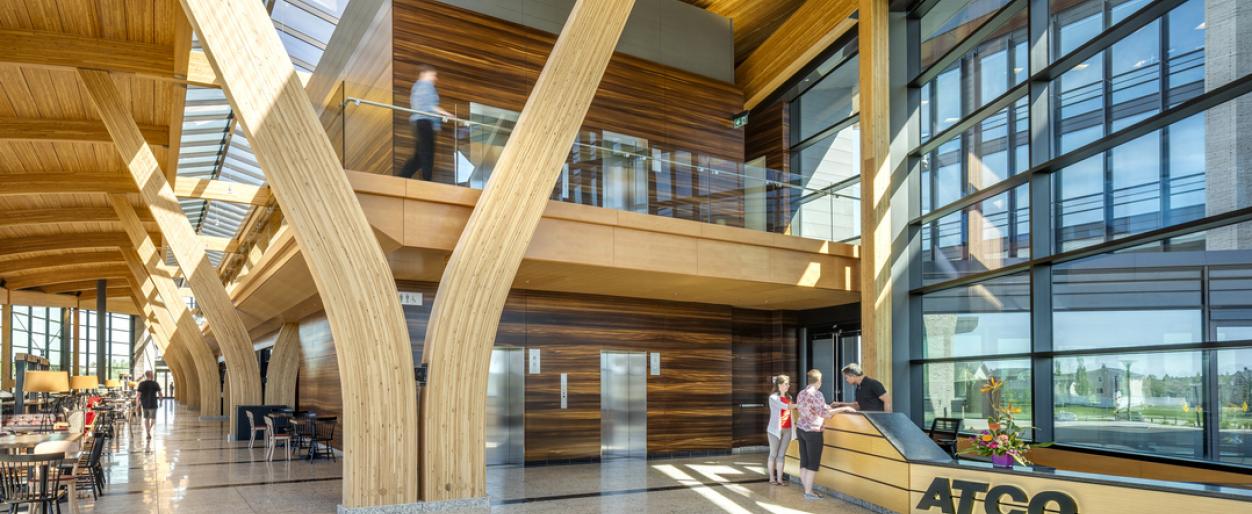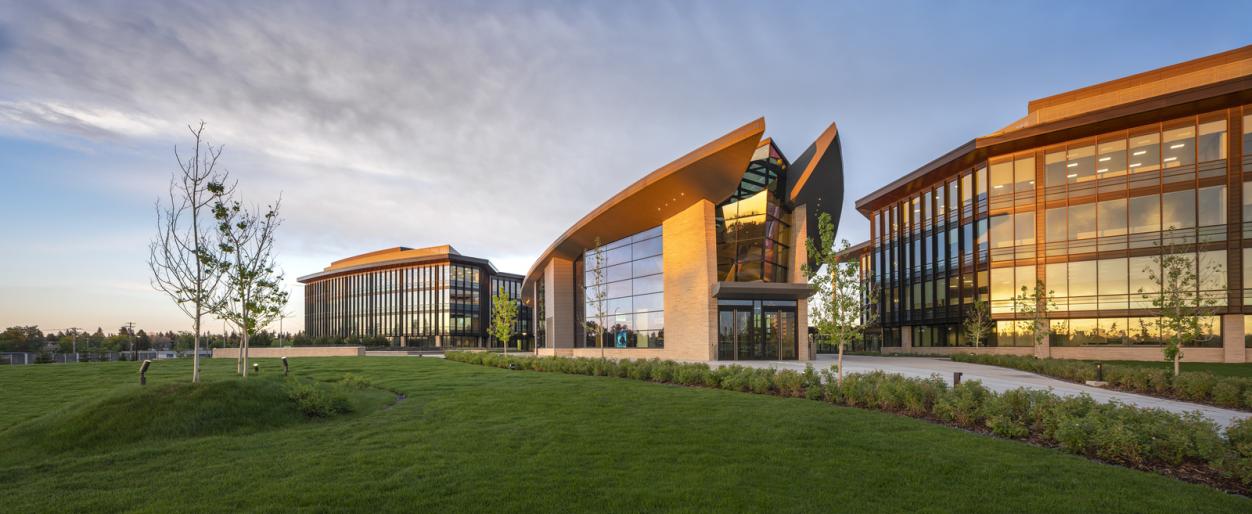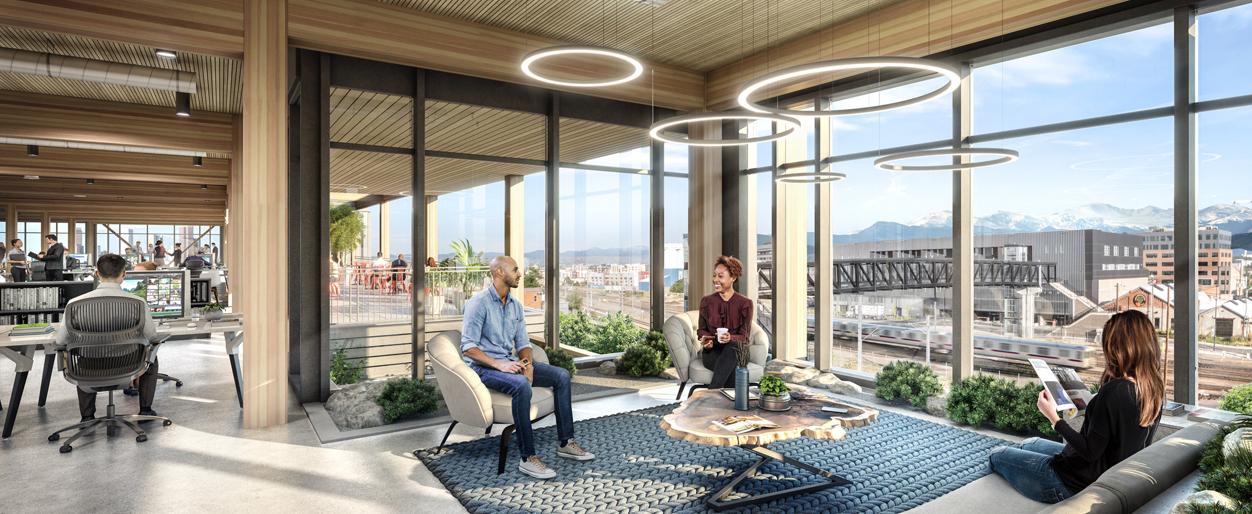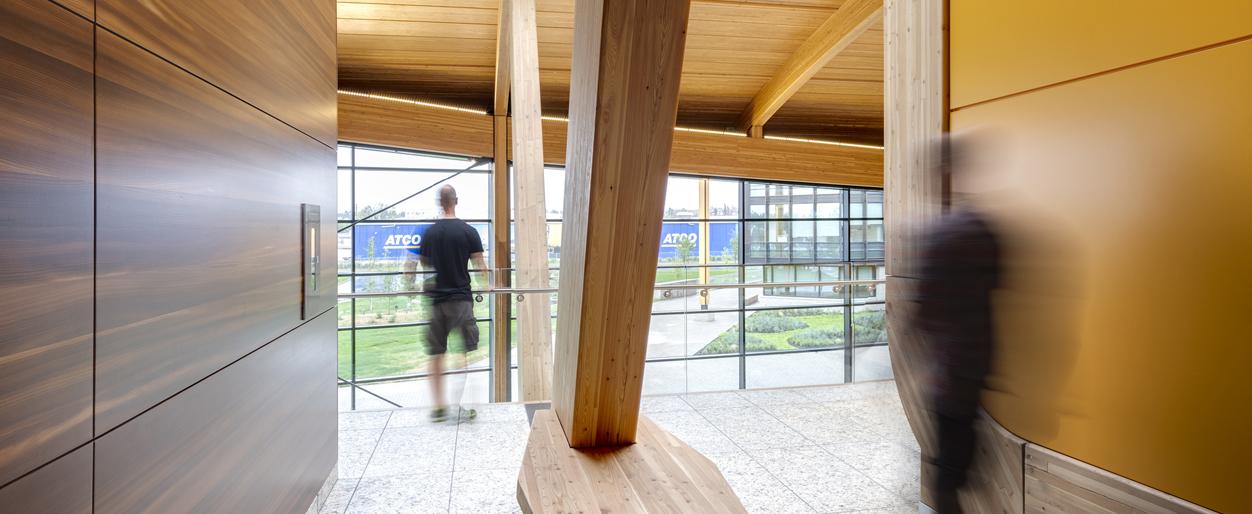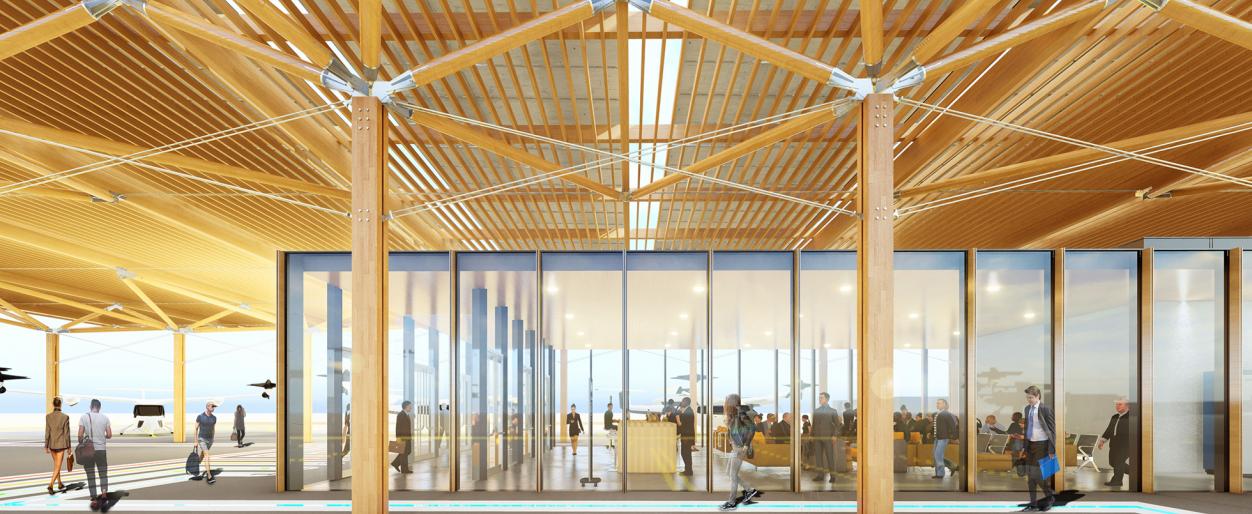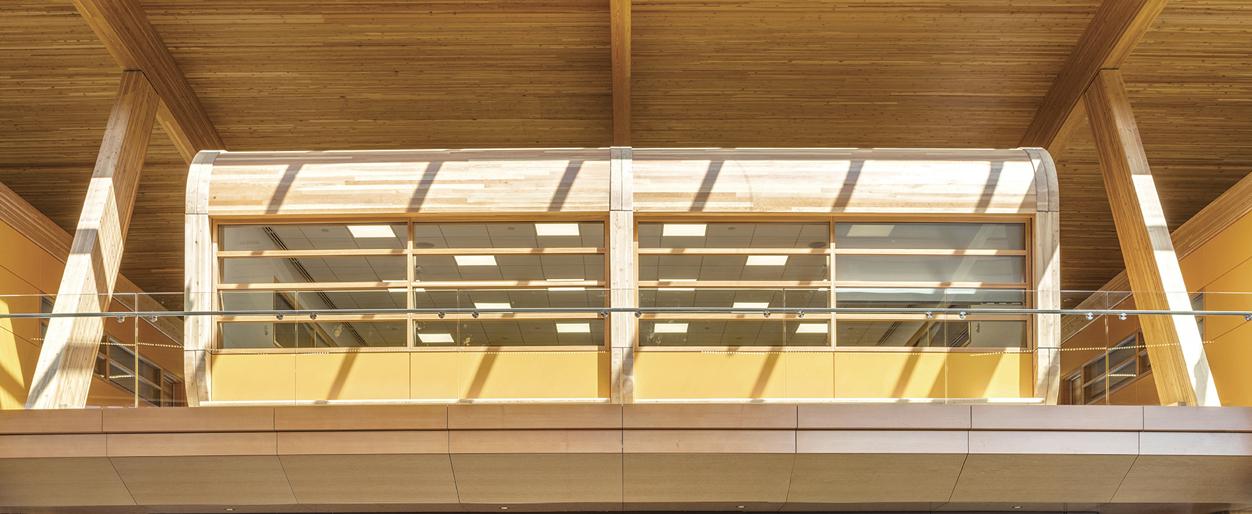 Pickard Chilton has designed 4 million gross square feet of mass timber architecture across North America since 2013 – the equivalent in carbon reduction of eliminating 6,985 cars from the road or the annual amount of energy necessary to power 3,108 homes. We are vocal proponents of carbon-informed mass timber design and actively support the global initiative to increase its accessibility and availability to a greater span of geographic regions and markets.
Since completing our first timber project in 2018, the ATCO Commercial Centre in Calgary, we have built upon and continually expanded our team's knowledge of this rapidly evolving and much-anticipated industry. The fundamental attraction of mass timber is its innate connection to the human experience, its contribution to providing healthy, sustainable environments, and the simplicity of the construction process as compared with conventional carbon-laden building methods.
Connecting the Benefits of Wood and Well-being
The use and application of natural wood in mass timber buildings create healthier and inspirational environments. They embody the central principles of biophilic design, the human attraction to be close with other forms of natural life. Designing an interior environment rich with natural wood has a positive effect on the autonomic nervous system, making occupants subconsciously more comfortable and relaxed.
Unfinished wood can be incorporated throughout the interior and exterior design, celebrating the beauty and strength of the natural material. Large structural elements in warm wood tones evoke a comforting familiarity of a tree canopy. Due to their inherent density and composite attributes, wood products and mass timber contribute to sound control and acoustic dampening within a building. Mass timber building products are hypoallergenic, enhancing a building's air quality, and the improved humidity control of the material improves the thermal comfort over baseline construction.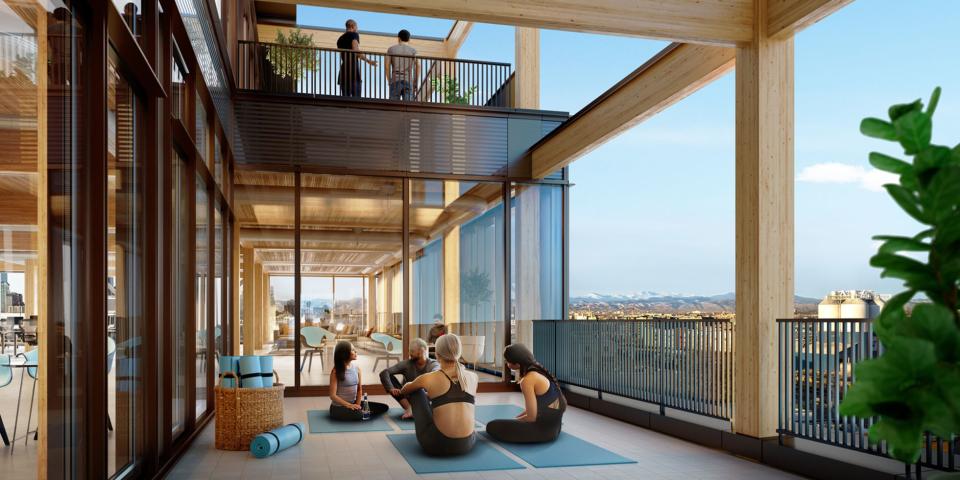 The Craft of Mass Timber Construction
Humankind has used wood to build shelter for millennia. The simplicity and efficiency of mass timber's construction process differentiate it from conventional carbon-laden building methods. Large-scale structural elements are prefabricated and delivered to the site ready to assemble, significantly reducing construction time and waste. Prefabricated elements are assembled with less intensive construction sequences than their concrete or steel counterparts. This efficient staging process allows for less disruption and construction noise, thereby demonstrating sensitivity and consideration of neighboring sites and the greater community.
Mass timber's unique characteristics also share significant life-safety benefits. Due to the natural density of mass timber, it does not burn like conventional wood, but rather slowly chars. Mass timber products therefore qualify for a fire rating even when left exposed without additional fire-protective materials. Careful consideration of the use of mass timber and the planning of its construction sequences creates abundant opportunities for greater efficiency of personnel, time, and materials.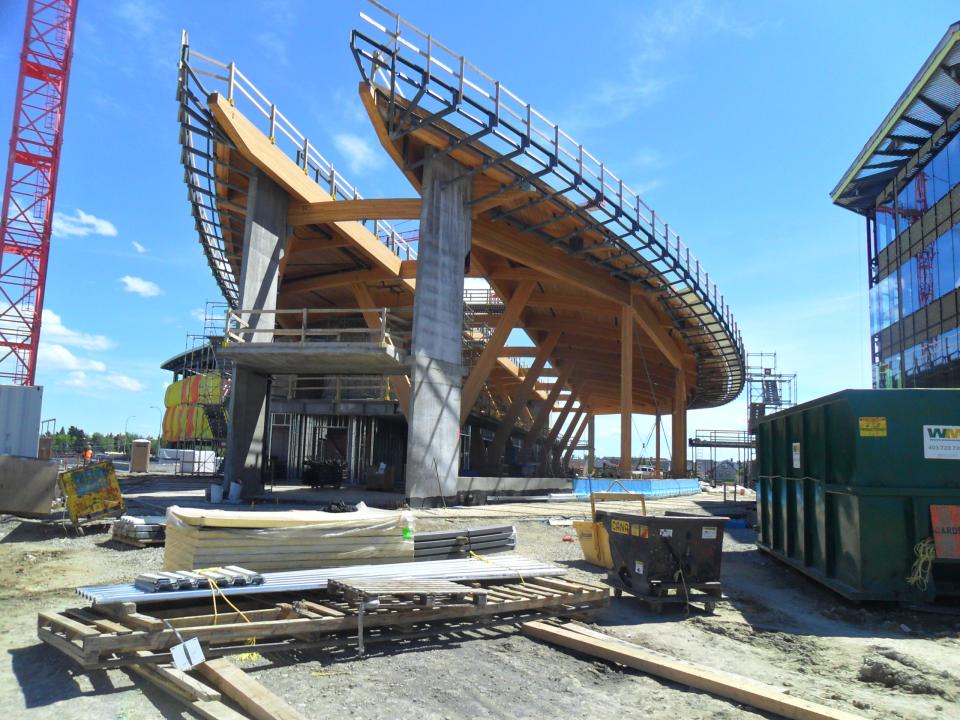 Related Work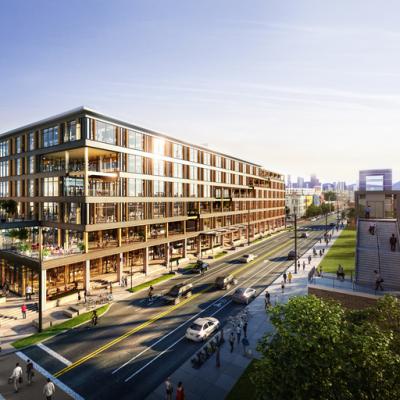 A new office complex made out of wood is predicted to become one of Denver's "most environmentally friendly" buildings.
Construction on River North Art District's T3 RiNo — a six-story building made of black spruce, a heavy timber — is set to finish later this year. Using wood for construction is cited as one way to cut carbon.
The timber structure serves as "a prime example of our commitment to embedding sustainability into every aspect of our projects as we work to achieve net-zero carbon by 2040," said John Rosato, executive vice president of capital projects and development at Canadian real estate company Ivanhoé Cambridge. It's acting as a co-developer on the project, alongside real estate companies Hines and McCaffery.
T3 RiNo, 3500 Blake St., is "slated to be one of the most environmentally friendly and sustainable developments in Denver," according to a Monday update on the project.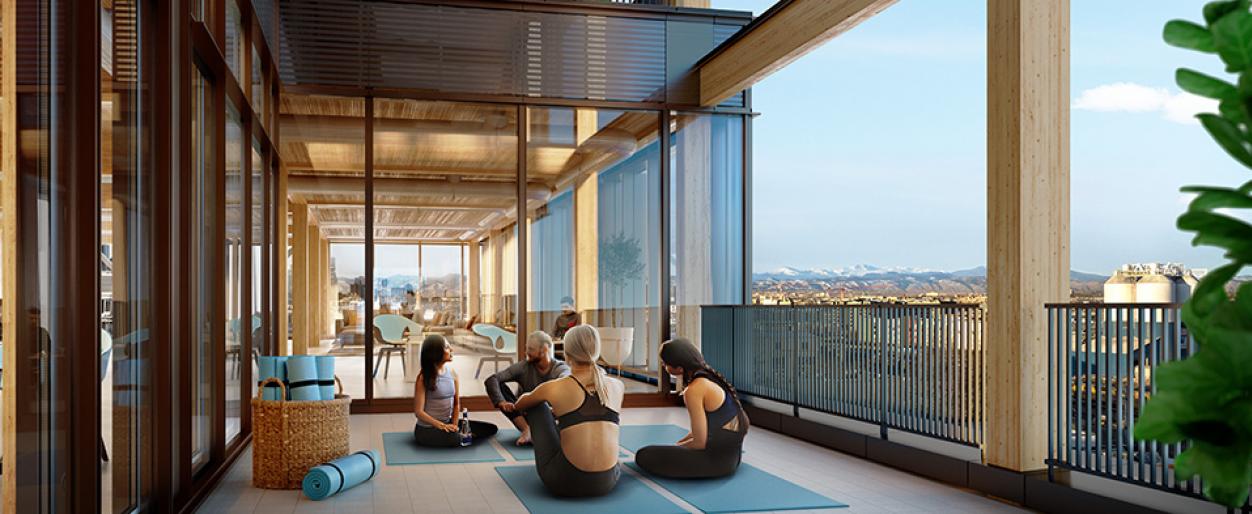 With over 4 million square feet of mass timber projects in our portfolio, Pickard Chilton has invested significant time and effort to best understand the unique opportunities mass timber presents while stretching the boundaries of its structural, massing and enclosure design. While each design addresses the challenges specific to the individual project, in return, it allows for the exploration of the near-limitless possibilities of mass timber. Highlighted below are four recent designs where common mass timber design was innovatively challenged to craft experiences tailored to the needs of each client and community.
We are passionate about our clients, our work, and the positive impact of every building we design. If you have a difficult design challenge, contact us to create a solution that realizes your vision.