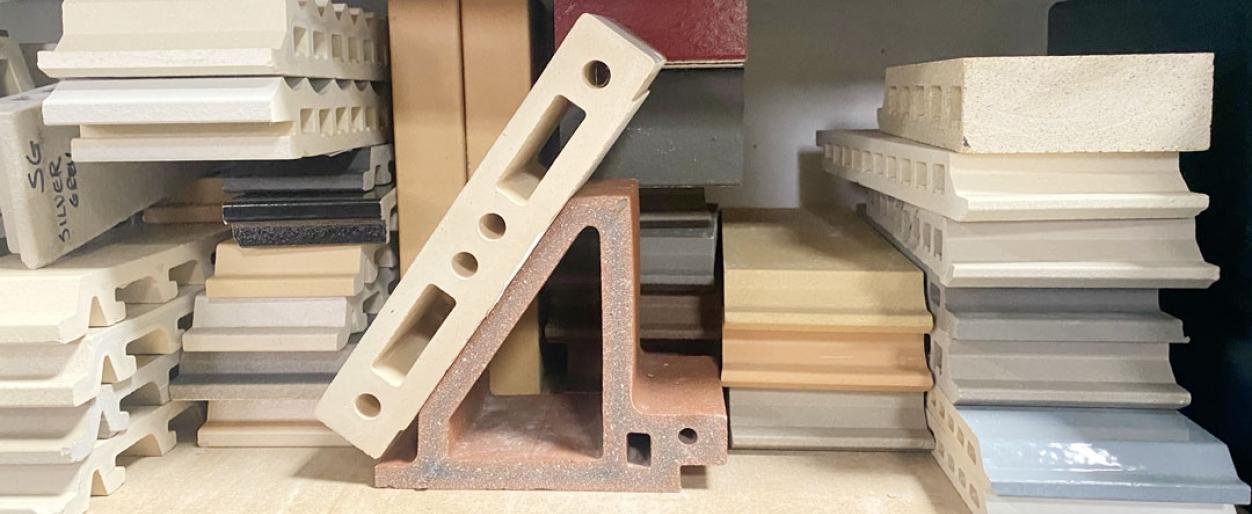 Terracotta: A Bridge Between Tradition and Sustainability
Terracotta, a natural material deeply rooted in history, has found a lasting place in contemporary architecture, seamlessly blending heritage with innovation. Derived from the Italian words "terra" (earth) and "cotta" (cooked), terracotta embodies the transformation of natural clay into a versatile architectural medium, a tradition dating back to Mesopotamian and Roman civilizations. As a low cost, fire-resistant alternative to stone, it enjoyed notable resurgence in the early skyscrapers of Chicago in the late 19th century.
The material's adaptability allows it to be applied to both functional elements, such as façade design innovations, and to decorative ornamentation. Terracotta acts as a canvas for architects to realize their creative vision, with its crafting process accommodating intricate detailing and unusual forms. Beyond its aesthetic versatility, terracotta aligns harmoniously with current sustainability aspirations. Sourced locally, it boasts minimal environmental impact in its extraction and production, and its high thermal mass contributes to energy-efficient designs via passive heating and cooling. Its durability and weather resistance extend a structure's lifespan while minimizing maintenance. As the architecture profession increasingly embraces aggressive sustainability standards, terracotta remains a cornerstone of modern architectural expression, blending craft and artistry with environmental responsibility, making terracotta a leading material in sustainable architectural trends.
Taking Environmental Cues
In downtown Seattle, our 2+U mixed-use tower incorporates terracotta's timeless charm with contemporary innovation. Adjacent to the Seattle Art Museum, this striking addition to the skyline knits together the Waterfront, Business District, and Arts District, while elevating the tower 85 feet above street level.
Within the high canopy-like space beneath, an Urban Village encompasses 24,000 square feet (2,230 square meters) of open public space. Terracotta plays a prominent role across the village's forms, echoing the Pacific Northwest's spirit while creating a distinctive visual identity. This community asset seamlessly blends local retail, art, culture, and nature, curating an immersive urban experience for all.
Furthermore, 2+U's design pays homage to the adjacent historic Diller Hotel, a 19th-century architectural gem sharing the same block. A layered terracotta façade applied throughout the village bridges tradition and contemporary design, coalescing the block's character. With a commitment to sustainability, the tower's LEED-CS Platinum certification reflects its eco-consciousness, underscoring terracotta's role in harmonizing elegance and ecological mindfulness.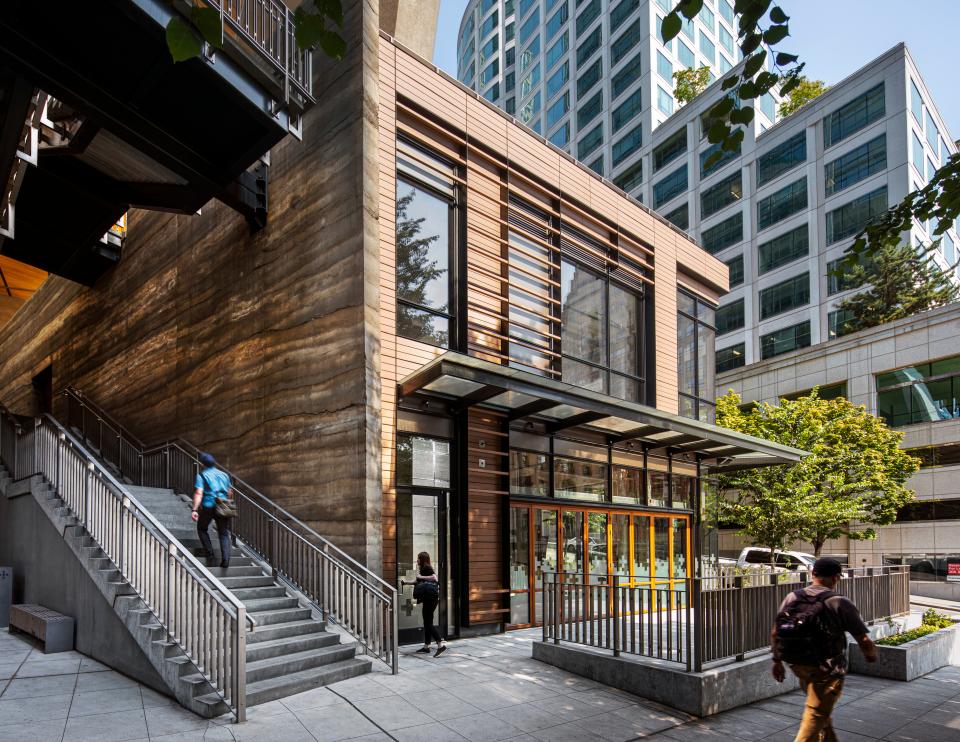 Terracotta's Influence: From Tradition to Innovation
Prominently sited in Kendall Square in Cambridge, Massachusetts, Akamai Technologies' global headquarters is sophisticatedly enriched through the innovative application of terracotta. Rising 19-stories, the high-performance corporate office tower consolidates its workforce into a cohesive vertical campus.
The tower's elegant application of terracotta across the podium balances tradition and modernity while reflecting Akamai's innovative ethos and its stature within this global technology hub. Amid Kendall Square's dynamic high-tech environment, the use of terracotta within the building's façade acknowledges the city's rich architectural heritage and the neighborhood's dramatic evolution while portraying a uniquely contemporary presence.
With its earthy tones and texture, the thoughtful integration of terracotta imbues the tower's façade with warmth and visual contrast to connect with the urban landscape and surrounding pocket park. As the terracotta-clad podium transitions to the tower's verticality, it exemplifies Akamai's commitment to technological advancement and innovation.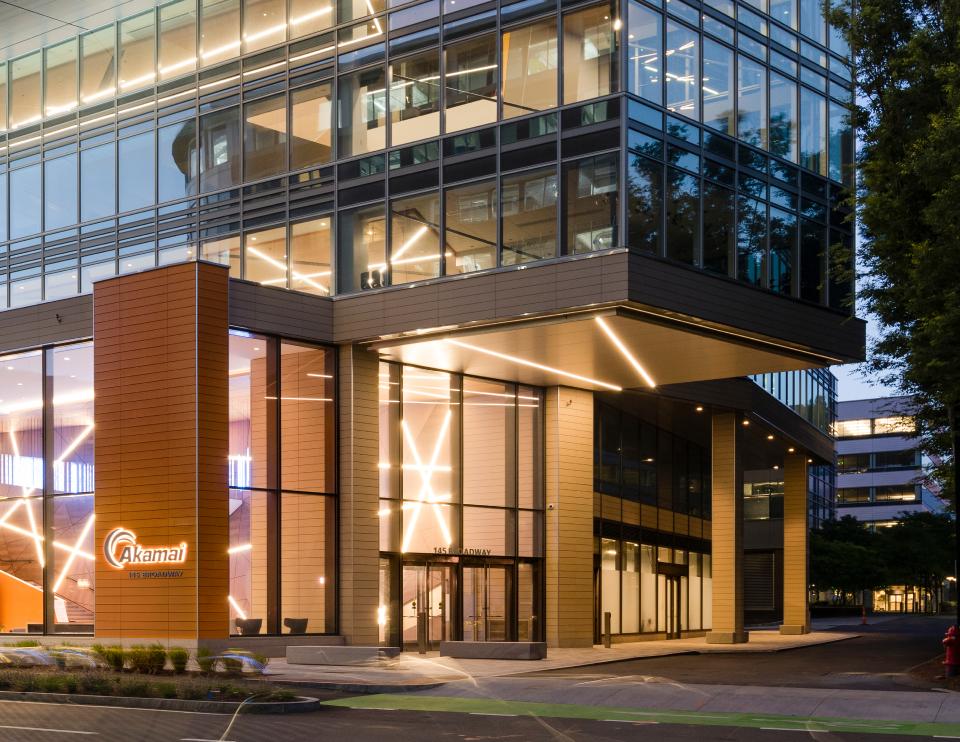 A Common Thread of Innovation
Terracotta bridges the past and future while advancing sustainability within the architecture profession. From iconic projects like Seattle's 2+U to Akamai's headquarters, terracotta resonates across architectural forms, embodying a material that merges heritage with modernity and shapes the next-generation designs of tomorrow, showcasing art-inspired architectural designs.