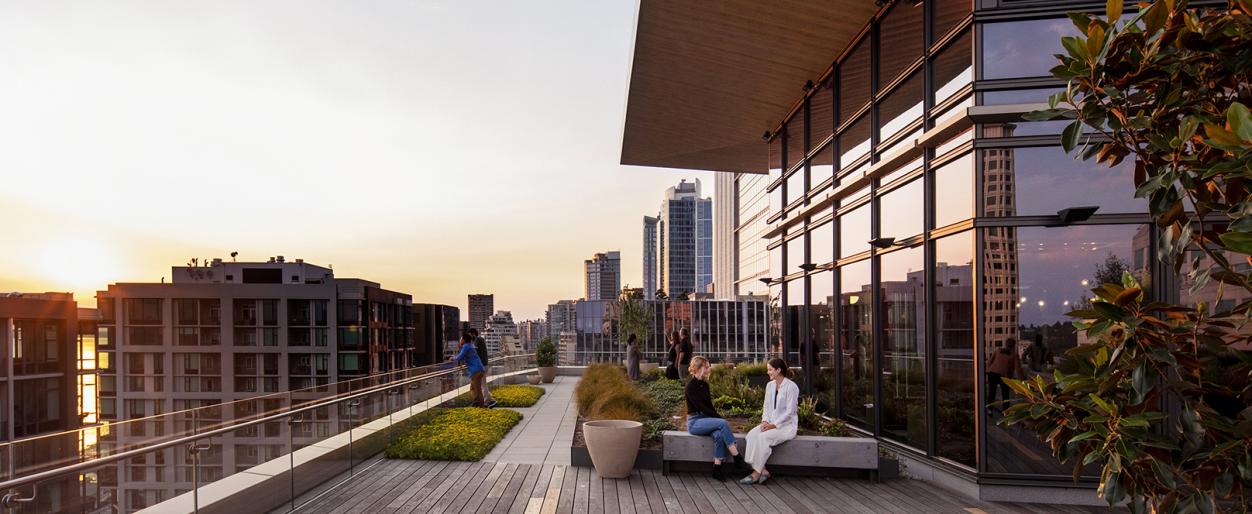 Placemaking + Public Realm
Placemaking begins with the creation of a dynamic center that supports a diversity of uses, activities, and exchanges. It is envisioned as a place where people freely and openly congregate to enjoy a moment together. This communal gathering space is not qualified by a narrow nor simple definition and it is not limited to private or civic property, or even exterior as opposed to interior use. Perhaps, the most appropriate categorization for the quality of this space is "Public Realm".  We will explore the origins and characteristics that create a successful public realm through the imagery of 2+U in Seattle, Washington. 
Origins of Public Realm
Public realm is a broad and encompassing term used internationally in urban design to describe a flexible range of spaces within which people gather. It is ideally a shared space that is open to anyone, facilitates positive human interactions, and fosters a welcoming and safe sense of community. The term 'public realm' emerged in the 20th century by urbanists to identify areas of cities that are shared by the community and through the way they use and occupy these urban spaces.
The distinction of private and public spaces is imperceptible to the millions of people who cross these invisible boundaries every day. Users are drawn to the quality and authenticity of the experiences these spaces offer. It is where they work, shop, eat, and engage with their community – each inherently contributing to the holistic experience of the public realm. To assure the success of any urban master plan as a world-class destination, the fundamental characteristics of a great public realm must first be defined and core to its vision.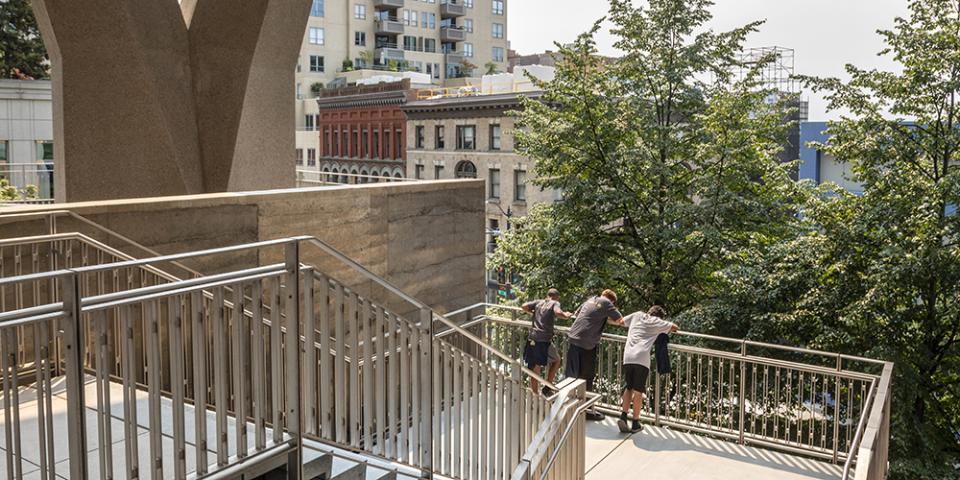 Welcoming and Accessible
Alexander Garvin, an adjunct professor at the Yale School of Architecture, defines the principles of a thriving public realm in his 2016 book What Makes a Great City. One of the primary tenets that Garvin identifies is that the public realm of any great city is 'open to anybody.' A variety of people seek to spend time in these spaces – from children and families, to residents, the elderly, business workers, and visitors. Inviting a such a broad mix of people to a destination requires the accommodation of numerous modes of transportation and a harmonious relationship to the pedestrian experience throughout all transit-oriented spaces. To support this wide diversity of people and uses, the public realm must be identifiable, welcoming, and accessible.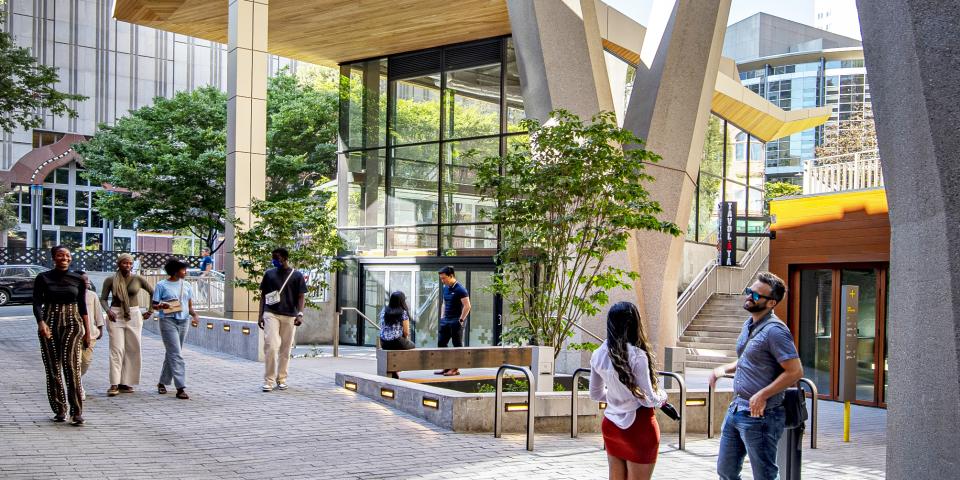 A Sense of Belonging
In addition to making the public realm accessible to all, a dynamic urban environment ideally features an activity or social space to engage each individual and foster a sense of belonging. The public realm is a place for people to gather and interact at a variety of scales for festivals, traditional celebrations, technology exhibitions, art installations or impromptu performances. An energetic and lively destination is intentionally composed of thoughtfully sequenced and linked experiences. With each turn, visitors discover, with a sense of excitement, new and unexpected places. Likewise, habitual users, for whom the experience is welcoming and familiar, should be surprised and engaged with a novel experience each time they stroll the environment. Consequently, there must be depth and diversity to the design and programming of the public realm to repeatedly and freshly engage users who have frequented the site for many years.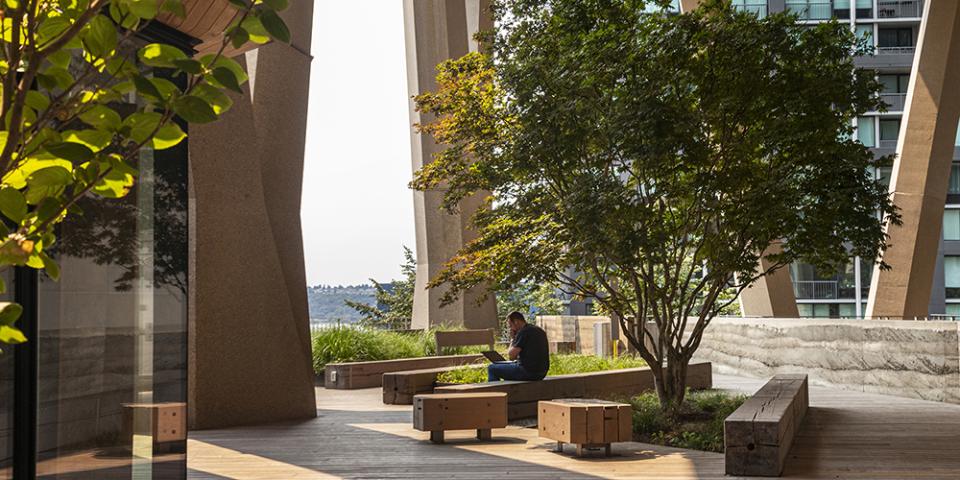 Biophilic Design
Celebrating the site's natural features and landscaping, a ubiquitous and unifying characteristic of a successful public realm is the seamless integration of biophilic design. Biophilic design is the innate human attraction to be close with other forms of natural life. A sustainable biophilic environment can provide shelter from the elements while also encouraging people to meander and enjoy their surroundings. From towering trees to pathways of natural stone, a celebration of the landscape on a variety of scales creates an inviting setting to accommodate a myriad of needs and experiences.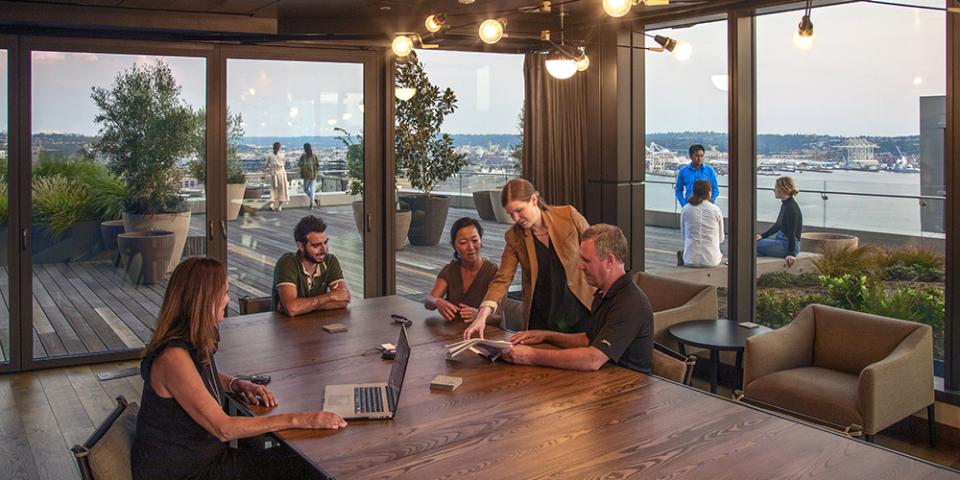 Sustainable Community
Essential to the greatest of cities, successful public spaces are organic and never fully completed: they continually evolve, adapt, and morph as people and communities transform them to better suit their needs.
As designers, we recognize the importance of this long-term view. The core idea is not to create a static or fixed design, but a sustaining framework that supports transformation in future decades. We strive to incorporate these principles into every stage of the sustainable design process, to ensure that the resultant community will be embraced as a truly great place where people will return for generations to come.