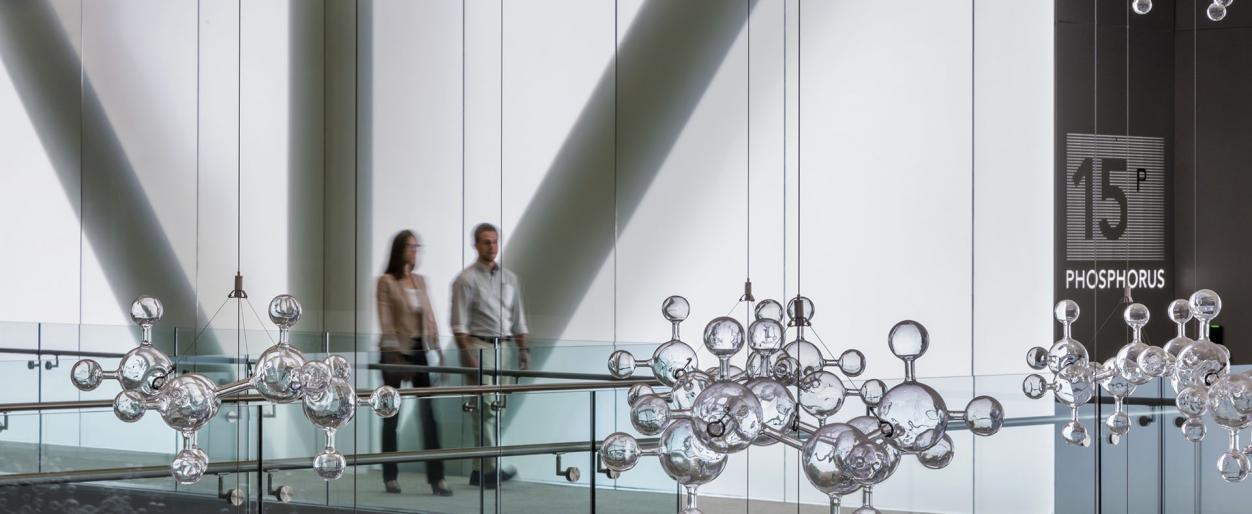 As Pickard Chilton celebrates the re-opening of our architectural design studio, we recognize this moment as a notable inflection point for the holistic re-envisioning of the modern workplace. We pride ourselves on the physical and technical agility of our workspace and consider our studio a testbed - constantly adapting, moving and changing to suit new ways of collaboration and harnessing emerging technology. We understand deeply how COVID has accelerated emerging trends, making once far-reaching ideas the new reality. Combining the lessons learned from our own studio re-opening with those from design innovations for our corporate headquarters clients, we are sharing four guiding principles of how we envision the future of work in the post-pandemic office.
Finding the Hybrid Balance
Finding a balance between remote workers and in-person collaborators will create a new hybrid landscape for the modern workplace. Tenants will need quieter spaces for remote conferencing, break-out spaces for combined virtual and in-person collaboration and flexible hospitality-style spaces for surge days when a greater number of employees are in the office. Quick access to technology and the ability to reserve preferred spaces will provide ease of access and comfort to employees.
Companies will continue to monitor how spaces are being utilized through the re-opening process to see how their corporate culture has changed and make improvements as necessary to accommodate the new expectations of their workforce. An emerging strategy of design for the hybrid work environment is to create a variety of larger and smaller floor plates to accommodate the diverse needs of employees. Whether new or repurposed space, acoustical considerations will also play a factor to provide privacy and avoid distracting background noise for virtual conferencing. With a smaller population of daily commuters, tenants can potentially reclaim space currently designated for parking to be repositioned for office workspace or featured amenities.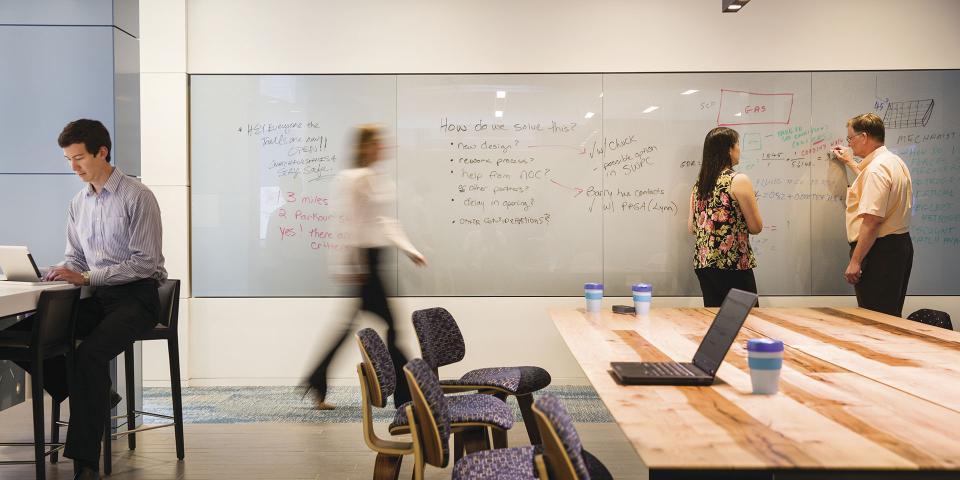 Experiencing Community
What did we miss most while working at home? Daily casual interactions with our colleagues and the satisfaction of collaborating together. Creating a social destination for employees through memorable spaces and experiences helps further rapport, camaraderie, and collaboration. Hospitality-style amenities will increasingly be a major draw when employees are returning to the workplace – especially experiential amenities that feature local food, musical performances or pop-up shops. Companies are beginning to understand the value in these types of amenities to attract and retain the most talented professionals in their field, whether they are welcoming people back to the office or for the first time.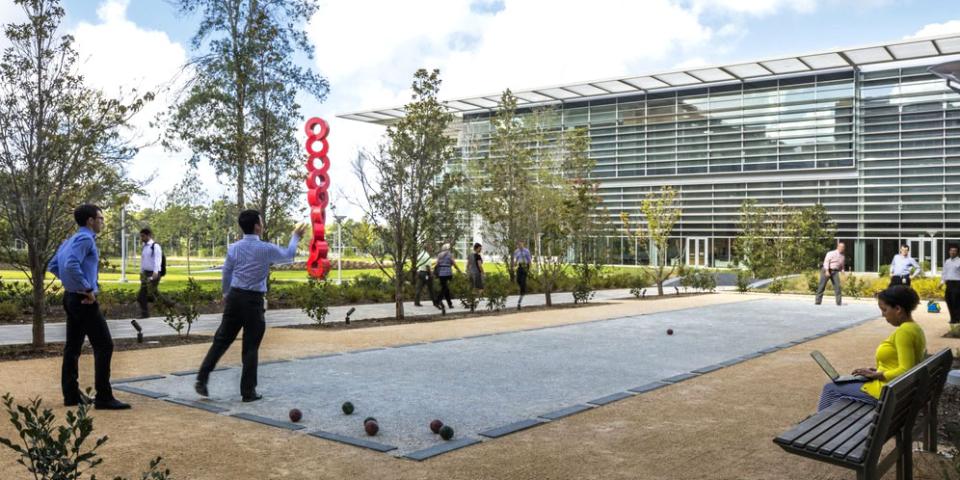 The Human Aspect of Work
Post COVID, the balancing of the human aspect of work with the traditional work environment requires a re-imagining of social density in the workplace. Over the past fifteen months, many employees have become accustomed to the comfort and ease of the work-from-home life. The ability to find a cozy spot near a window for a morning call or relaxing on a couch during a brainstorming session and the ability to move between spaces, are moments that would ideally be recreated within the work environment. Prior to the pandemic, the escalating cost of real estate was driving tenant space ratios to record lows of 100 square feet per person. With a renewed emphasis on both personal and mental comfort, the new benchmark will adopt a higher square footage per person ratio, even when factoring in that hybrid workers may only be in the office for a few days a week.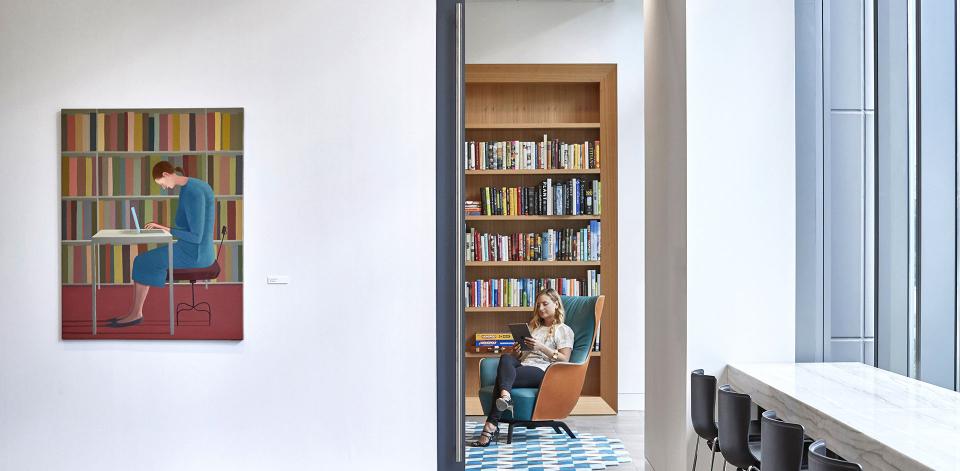 The Sanctuary of the Outdoors
For many of us, our common sanctuary throughout the pandemic was having access to the outside and nature. We became accustomed to feeling safe in the fresh air - it is where we met with friends, safely enjoyed restaurant meals, and reconnected with nature. The integration of outdoor and hybrid indoor/outdoor spaces will continue to serve as safe havens for individuals in the workplace as employees are welcomed back to the office during the seasonable summer weather in the United States.
As we continue to navigate hybrid schedules, we learned to appreciate our time outside and away from screen time. Sustainable design opportunities for meditation spaces, walking trails, bike sharing programs and outdoor entertaining space will help employees recharge and ultimately be more productive. Pickard Chilton recently enacted a Wellness Challenge for staff to stay connected with each other and encourage everyone to enjoy and take in the outdoors.
Whether it is through a video conference, an in-person meeting or upcoming social event, we anticipate a smooth and welcome transition back to the studio for all Pickard Chilton employees as well as our clients and colleagues.