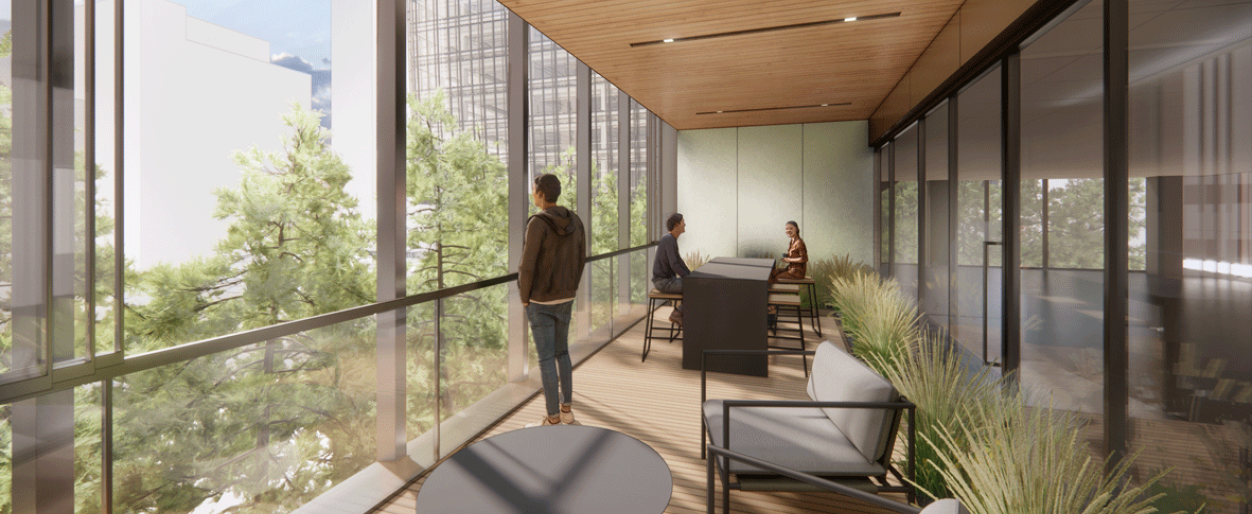 Elevating the Tenant Experience with Air Porches
During the COVID-19 global pandemic, buildings faced an unprecedented need for access to fresh air. We developed a solution allowing tenants to install air porches for a private outdoor experience. 
Luxury for All Climates
While balconies provide daylight and fresh air, they are not feasible in all climates. Chicago high-rise balcony would be too cold or windy for much enjoyment. Yet, the air porch is a semi-protected space built within the structure of a building. Inspired by the four-season room, Pickard Chilton design architect firm Principal Jon Pickard notes, "with an air porch, you can be comfortable, but feel like you are outdoors." Even when sliding glass windows are closed, there is still access to flowing air and daylight.
Spaces with Flexibility
Air porches shine in the customization of tenant space. A significant draw to this amenity is the democratization of building terraces. Rather than being a specific feature only a few occupants could experience, air porches offer opportunities for open-air experiences throughout the building.
Due to the infrastructure of a balcony, it is an upfront cost for the developer. The permanence of a balcony can make leasing future tenant space difficult. When a building is designed with the forethought of an air porch, tenants can customize their space. "You design the building flexibly to meet the tenant's planning needs," explains Pickard. This way, as tenants change or grow, the space can adapt. The air porch can be modified, relocated, or removed as needed.
Design for Wellbeing
The integration of air porches and our projects came from the result of the COVID-19 global pandemic. Pickard shares, "we're creating a unique experience where people have a healthy way to meet with colleagues and provide access to fresh air and daylight." While separate from the internal office, these hidden retreats supply access to fresh air flow in a semi-protected space.
Air porches are a sleek approach to replicating features employees enjoy while working from home. This thoughtful solution prioritizes the health and unique needs of each tenant.