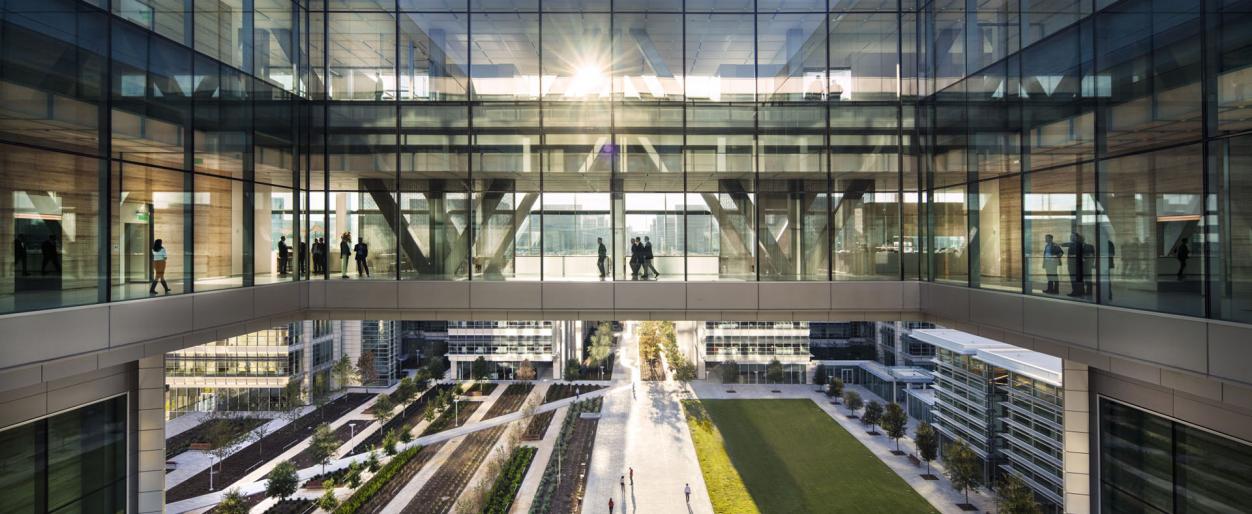 The 2030 Challenge in 2021
"When we started Pickard Chilton, the word 'sustainability' was not in the professional lexicon." Principal Jon Pickard recently shared with the panel discussion AIAU Live Action Climate: 2030 Program on April 20, 2021. "Starting with our very first project in 1997, The Pinnacle, we included a roof garden with a curved sail top canopy and sunshades on the curtain wall to protect from the Atlanta heat. We did it because it felt right – because it was the right thing to do. The beauty of that project is that people still remark on how those sustainable design features elevated the building for the tenants and the city of Atlanta."
Inspired by Jon Pickard's recent discussion, we are reflecting on our history, our practice and what lies ahead for sustainability at Pickard Chilton. 
Meeting The 2030 Challenge
When the firm joined the challenge in 2012, Pickard Chilton was one of the first adopters of the 2030 Challenge in the state of Connecticut. Heeding the guidance provided by the challenge, we made a deeper commitment to analyze our projects as they meet higher benchmarks across the industry. We take great pride in the consistency of our annual reporting and in the firm's ability to improve upon previous scores each year for nearly a decade.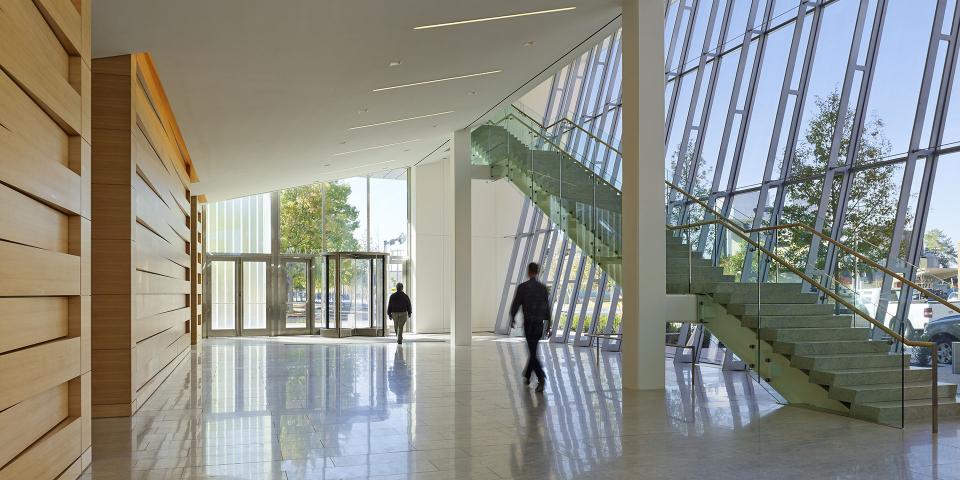 Climate-Positive Approach
Pickard Chilton has identified on-going goals for integration of climate-positive design to advance the firm's position as a leader and advocate for sustainability in the building industry. Our in-house Sustainability Committee drives a firmwide discussion and provides education opportunities and tools to integrate carbon-informed methodologies with the fundamentals of our design approach. Through a variety of assessment tools, workplace operations, and data collection, we continue it achieve a stronger, more informed climate-positive practice.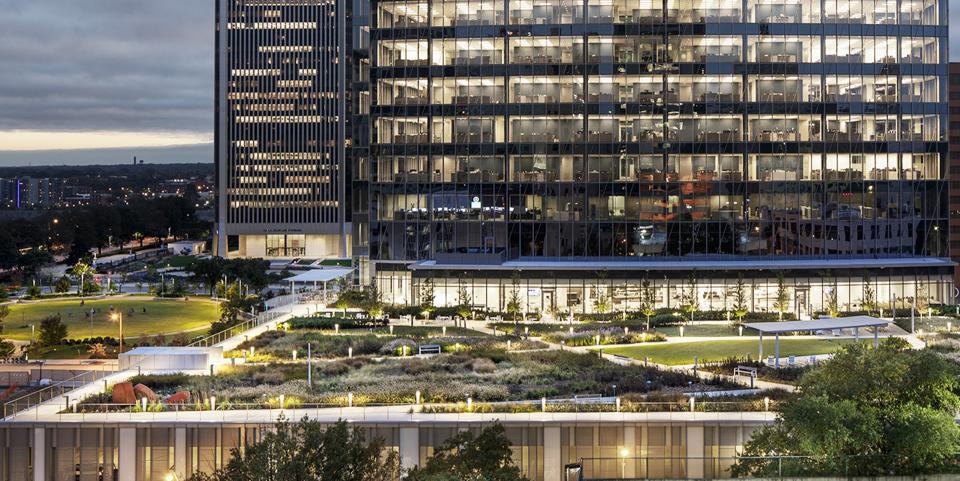 Educating Leaders
Pickard Chilton has been establishing sustainability benchmarks since our first LEED-Gold project, the CalPERS Headquarters Complex, in Sacramento, California, was completed in 2006. When we set that goal as a studio, we worked diligently to educate our staff and adjust our design to meet the needs of the nascent LEED requirements. Pickard Chilton maintains this commitment to education today; 40% of our staff are qualified LEED Accredited Professionals with additional certifications in WELL or Fitwel. Utilizing the diverse knowledge of our educated and informed staff, we continue to progress sustainability through all phases of design.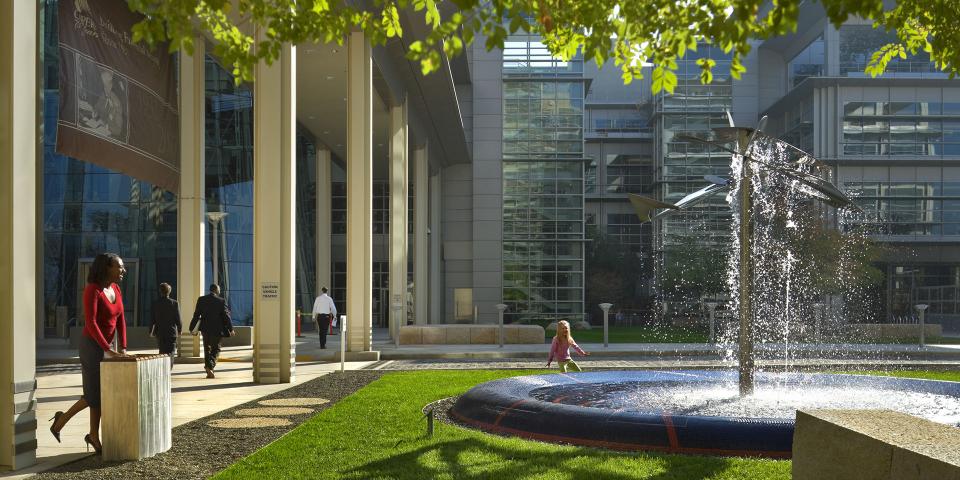 Studio Operations
To support the needs of our global clientele, our studio is available on a 24/7 basis. Our in-house Sustainability Committee took a hard look at our workplace – the food we offer, our energy habits, and the presentation materials generated – to be more aware of our impact on the environment. Sustainable decisions large and small continue to shape where and how we practice. Through the guidance of the committee, we made changes to how the studio operates that include:
Transferring the studio's electricity source to a 100% wind-powered clean energy.
Choosing recycled or digital presentation materials when possible.
Offering a greater variety of healthy snacks and meals to staff and guests.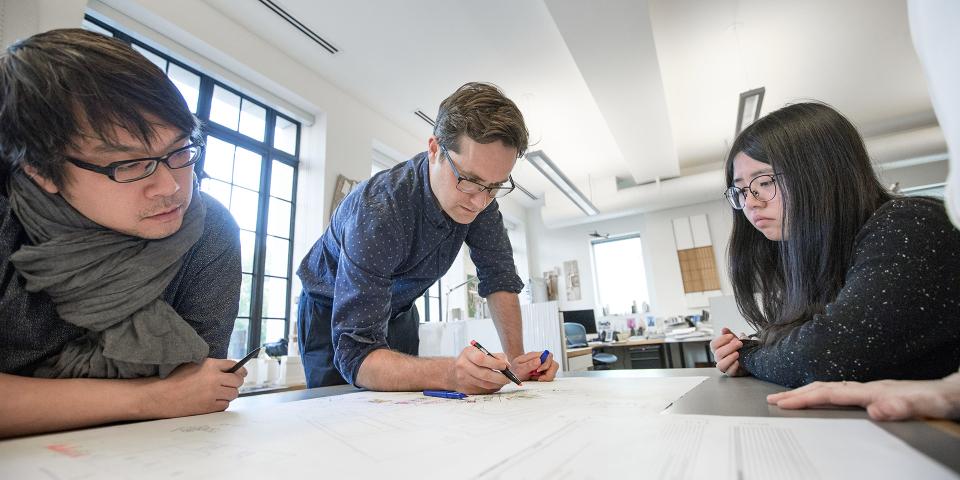 Advocates for Sustainability
Our deep passion for mass timber design has been a driving force in our recent work. Through the design process of 3.5 million gross square feet of mass timber buildings, designers have acquired extensive knowledge of the complexities of using this material in many different cities, seismic zones, and climates. Informing our clients on the availability of carbon-informed design such as mass timber, we serve as advocates for greater sustainability in the industry. We approach all our work with a sustainable mission that echoes Jon Pickard's earlier quote, "We did it because it was the right thing to do." As architects and advocates, we seek new opportunities to continue this mission every day.