latest > News > Biz Times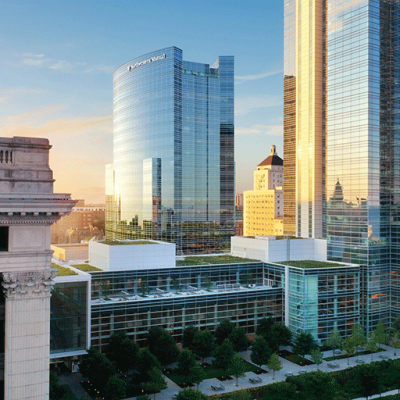 Timing was everything in Northwestern Mutual's decision to spend more than $500 million to rebuild its North Office Building, located at 818 E. Mason St. on its downtown Milwaukee headquarters campus.
Present at Thursday's press conference was architect Jon Pickard, principal at New Haven, Connecticut-based Pickard Chilton. The company is one of two architectural firms involved in designing the new North Office Building.
Pickard explained what helped guide him during the design process, and at the heart of the renovation is a desire to allow employees to reconnect with nature, which will in turn boost their health and happiness.
"I think one of the things that guides us is the fact that people do best when they're in touch with nature. One of the things we're going to bring to the new North Office Building is access to that (nature)," said Pickard.
Included in the renovation plans are connecting structures and a pedestrian plaza on North Cass Street. Workspaces will also be redesigned for more collaborative work.
"My north star is how do we create a best-in-class experience not just for the people that are here on a day-to-day basis, but also the community," said Pickard.