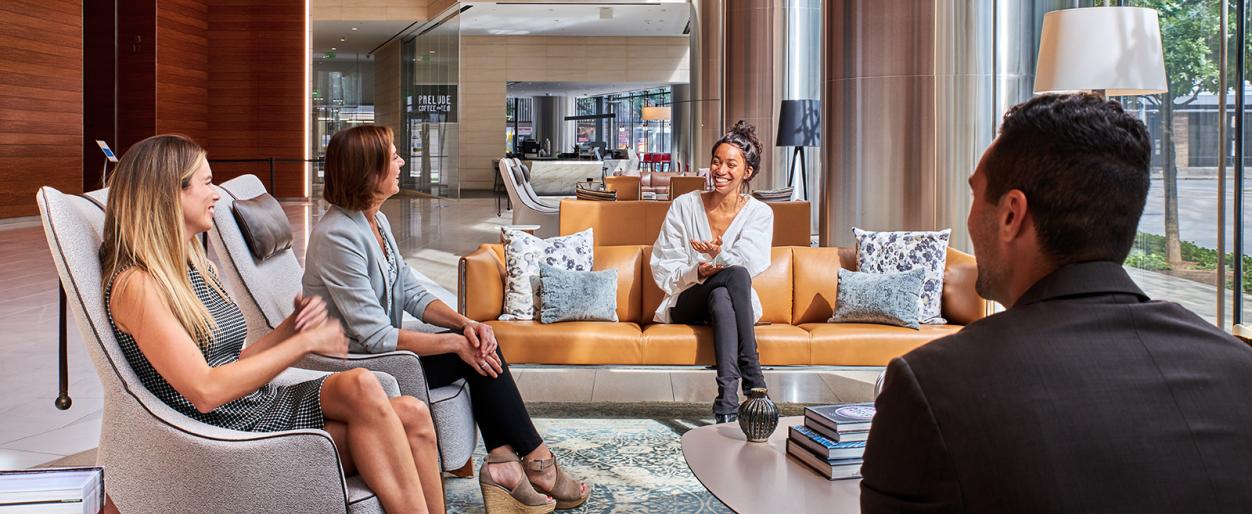 Pickard Chilton leads our practice with purpose. With each building we design, our team is engaged throughout the design process to develop solutions that best serve our clients and the planet while positively contributing to the greater community. Our commitment to environmental stewardship not only creates built environments that are livable and workplaces that are healthy but also results in a timeless and resilient architecture.
Practicing globally, Pickard Chilton has designed 1.4 billion sf (130 million m2) of culturally respectful buildings in 22 countries across six continents. We have a proud and established record of delivering sustainable buildings of exceptional design quality and financial performance.
ESG + FORTUNE 500 CLIENTS
Consistent and often dramatic results reveal the positive impact of the new facilities we have designed for our Fortune 500 clients. These highly sustainable buildings are often in direct alignment with our clients' ESG ambitions in terms of their ability to support employees, foster innovation and provide a safe and healthful work environment. Metrics gathered from our completed projects substantiate net gains in employee recruitment, engagement, and retention.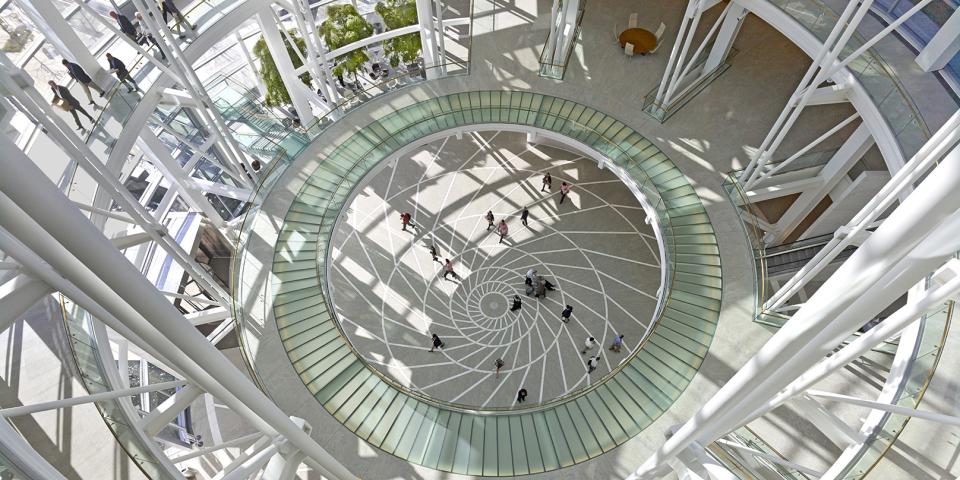 ATTRACT, RECRUIT, RETAIN
Designing buildings that withstand the test of time is fundamental to how we practice. Recently recognized with a 10-Year Award of Excellence from the Council on Tall Buildings and Urban Habitat, our design for the Devon Energy Center helped fulfill their vision for their new home, their staff and for the citizens of Oklahoma City. Attesting to its success, the Devon Energy Center yielded a 40% rise in applicants after the opening of the building.
An open and welcoming public urban piazza, the Devon Rotunda serves as the heart of the campus and community. Providing civic-scaled assembly space for both public and corporate functions, it often accommodates a wide variety of company and social events. Since opening in 2012, it has become the new center for city life, as evidenced by its being the preferred venue for business and civic functions and its prominence in major advertising campaigns. The Rotunda is shared by both the public and employees at the ground and second levels, with employee-only access above. Chance encounters by employees are fostered as they circulate through the hub. A series of communal spaces serve as additional lunch space and informal meeting and break rooms.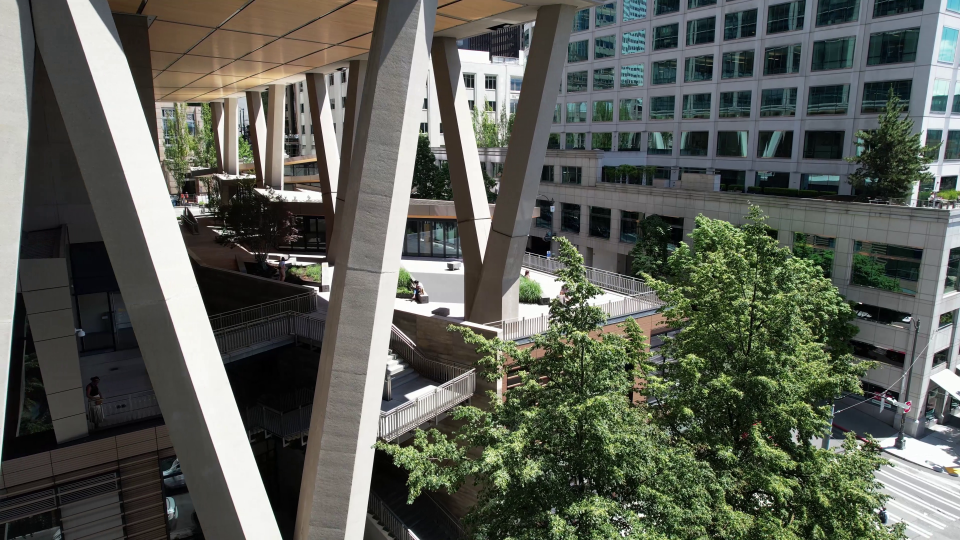 ENGAGING THE COMMUNITY
2+U celebrates the arts and culture of its downtown Seattle neighborhood. An innovative design strategy – lifting the podium tower 85 feet (26 m) above street level – creates 24,000 sf (2,230 m2) of open-air, pedestrian-friendly, publicly accessible space with dynamic retail where the community can gather. 2+U offers dedicated creative and studio space for local artists to use free of charge, with a focus on emerging artists and underserved communities.
While the tower above provides year-round weather protection akin to a tree canopy's warmth and comfort, the dynamic open-air retail experience below serves as a gathering space for the public. Designed to be a very porous and welcoming pedestrian experience, the village also accommodates food trucks, as well as entertainment and large-scale art opportunities within the publicly accessible plaza. Heavy timber beams salvaged from the site during demolition were repurposed into benches to provide seating.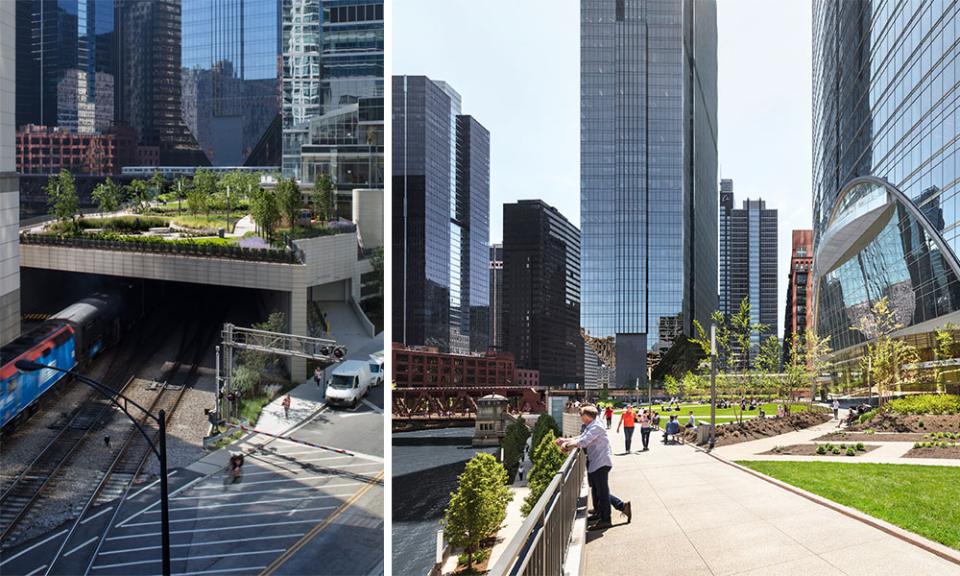 RECLAIM TRANSIT SPACE
River Point's dramatic three-story lobby opens onto an expansive 1.5-acre riverside public plaza and newly created Riverwalk, the latest addition to Chicago's unique riverfront. Replacing underutilized train tracks on the site, the public park is built over a new Amtrak station regaining green space for the city and creating a verdant series of linked public spaces for pedestrians. Elevating this vital intersection of public greenway and street life is the Constellation, a sculpture designed the architect, Santiago Calatrava. Reflecting River Point's mirrored architectural arch, the sculpture's graceful circular red form creates a stunning focal point for the plaza and a new iconic outdoor destination for the City of Chicago.