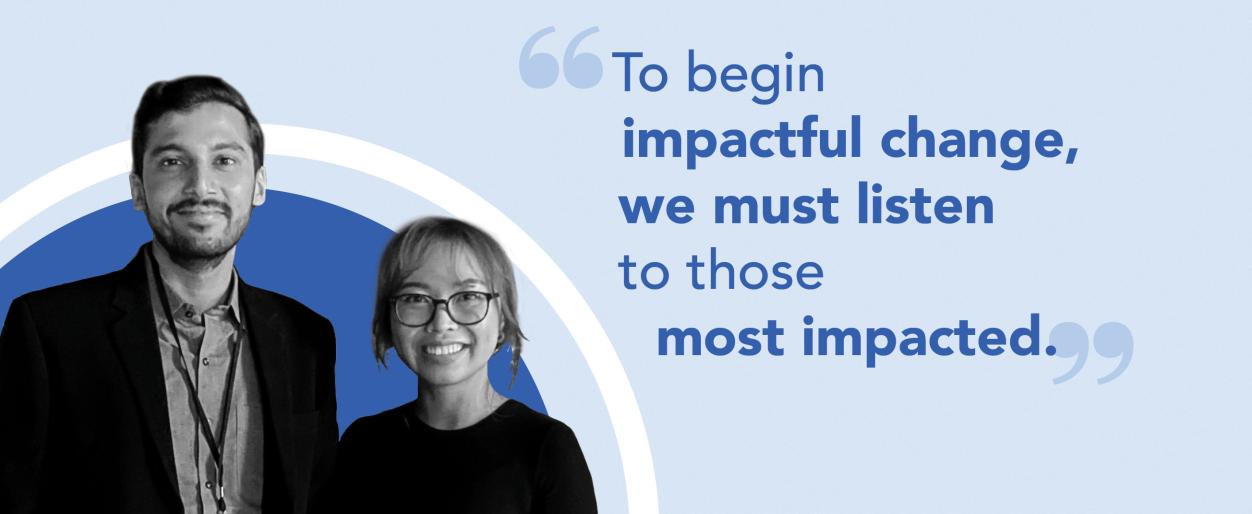 Reflections on the 51st Annual NOMA Conference: Part III
The way to a more equitable community is through addressing the needs of the neighborhood and the underserved. 
Pickard Chilton architectural designers Deep Chaniara and Mary Le write about their experience at the NOMA National Conference: Unplugged. The final part of this series, originally published in NOMA Connecticut Intersections in the 2022 Q4 newsletter, discusses the ways that the architecture community aims to record and manage inequality going forward. 
Originally published in NOMA Connecticut's Intersections in the 2022 Q4 newsletter. As part of Pickard Chilton's efforts for a more equitable and diverse community, we released their publication in a three-part series: read the first and second parts.
Making Impactful Changes
Failure to examine systematic issues results in a number of concerns many organizations experience. Participation in change feels optional: the work of inclusion becomes the responsibility of those that are most marginalized in the organization. In fact, avoiding to acknowledge existing issues pairs with the expectation of others to resolve those matters. Often organizations view equity work as both urgent and important to the health of the organization, and yet there is no compensation for the labor of doing equity work. This signals the work as something invaluable because it is not compensable. Value is lost when treating this work like a benevolent exercise that is done for the benefit of others, which could feel performative. Additionally, addressing the lack of accountability from leaders should be examined in ways in which they are upholding and replicating harm in their leadership. Initiatives should not only be skill-building in an organization, it should also be supporting the growth of those most marginalized.
To begin impactful change, we must listen to those most impacted. Understanding the experience, needs, and wants is an asset to mend past harm. When the focus is shifted from repair, the outcomes are also shifted – leading to erasing the pain and live experiences of others. Therefore holding a safe space for those voices is extremely critical. Although what we may hear can be challenging or come in conflict with what our own experiences were, we should sit in discomfort listening to the truth in order to take meaningful action. Honesty is in fact, the best policy – we must be transparent about what we can do or cannot do. By acknowledging what cannot be solved at the moment, it is important to point out what has been done to grow from that point. Even if current initiatives are imperfect, perfection as a goal can delay change. It is encouraged to launch it regardless and to understand the status of the support present. This ensures that all individuals in this system become aware of the role of accountabilities and consequences, and have a mutual understanding to move at the speed of trust, not urgency. In this way, the path to move forward can build equitable momentum in the organization.
Leveraging Collaborative Resources
Diversity is the strength on which NOMA thrives. It is equally important that Diversity can also be solidified with Connections and Collaboration. In the past few years, the leaders of our organization have articulated a thoughtful vision under which many programs are shaped. Some programs are at the local level while others are at the national level. But as we move forward, the leadership is hoping to focus on the programs already in place at the grassroots level and further strengthen the reach of all the initiatives instead of introducing any new program. Critical emphasis will be given to assessing the impact of each program and how the messaging is communicated. As NOMA president Pascale Sublan rightly noted in her speech -"we can't manage what we can't measure."
The foundational step to begin this process is by leveraging collaborative resources to bring the community together in one place and connect them with each other to share collective knowledge. With that in mind, the organization is actively working towards enhancing NOMA Connect - a digital platform that ties the chapters/memberships from all across the country in one place. Without any third party or social media influence, it is a space solely owned by NOMA for networking, discussion, and organization designed to empower the membership and discover communities to enrich the experience and learning opportunities. Its built-in directory helps participants find other individuals with whom they may seek advice or share common challenges. Moreover, the discussion forum on this platform is designed to join the discourse with your peers and industry leaders to broaden your knowledge and meaningfully participate.
Another resource called the Guide for Equitable Practice prepared by AIA is a long-term commitment to ensure that the industry organization meets the career development, professional environment, and cultural awareness expectations of current and future professionals. This guide includes nine chapters - Intercultural Competence, Workplace Culture, Compensation, Recruitment and Retention, Negotiation, Mentorship and Sponsorship, Advancing Careers, Engaging the Community, and Measuring Progress.
Knowing the issues at hand, and how people are affected by them, these resources provide a wide range of support for informed discussion and concrete next steps to help turn intent into action.
Expanding Strategic Partnerships
Design excellence is only justified with Design Justice - the big takeaway that came out of an insightful panel discussion where the leaders of both NOMA and AIA (Jason Pugh, Pascale Sablan, Emily Grandstaff-Rice, and Peter Exley) shared a stage together and portrayed the vision of how individually they are approaching the intersectionality of Justice, Equity, Diversity, and Inclusion. It was evident that both organizations are committed to growing their current partnership not limited to benefit the members of the organization through various events but also help increase the engagement of membership through Project Pipeline, provide resources to elevate numbers of minority licensed architects to 5000+ by 2030, strengthen local chapters and highlight champion identities making a greater impact.
Both organizations are eager to empower young emerging professionals to initiate change in their community through design and to work together to bolster critical resources and support. Instead of working independently, and creating yet another program or initiative, this strategic partnership is examining the current issues closely and strengthening what already exists, and fostering it to the next level. This partnership also recognizes that irrespective of the geographic location (big or small city), comparatively, the architecture community itself is very small, which is why it is even more important to focus on strengthening local-level communities.
Overall, a shared discourse of cultivating the next generation of architects around the Project Pipeline echoed throughout the conference. Various examples of Project Pipeline Camps projects were presented to highlight the enthusiasm of high school students working individually, and collaboratively in order to address community-focused issues through creative and design innovation. These camps are designed not only to inspire youth but also to transpire the spirit of ownership reflecting the culture, identity, and design interest.
Conclusion
The premise of the program is teaching (and also learning from them) aspiring individuals about who are the people in the profession, what the demographics can be, how we practice, whom we serve, and most importantly why diversity is so critical to the profession and our society. By doing so, the program helps break the rigid generational cycles through curated mentorship between the school and the field. This offers the necessary exposure and connections to people of color who are already part of the profession. Furthermore, it provides critical assurance to young students that there is a place for every identity irrespective of individual background or skin color, and every single voice uniquely contributes to a greater change in this holistic system. And one can hope that the generation coming out of this program become champions across the organization encouraging others to step up and lead in many directions.
Thus, the deeper the reach, the more resonant and effective the outcome can be, creating unanticipated benefits that ripple outward to building meaningful relationships, an inclusive community, and the equitable profession at large.