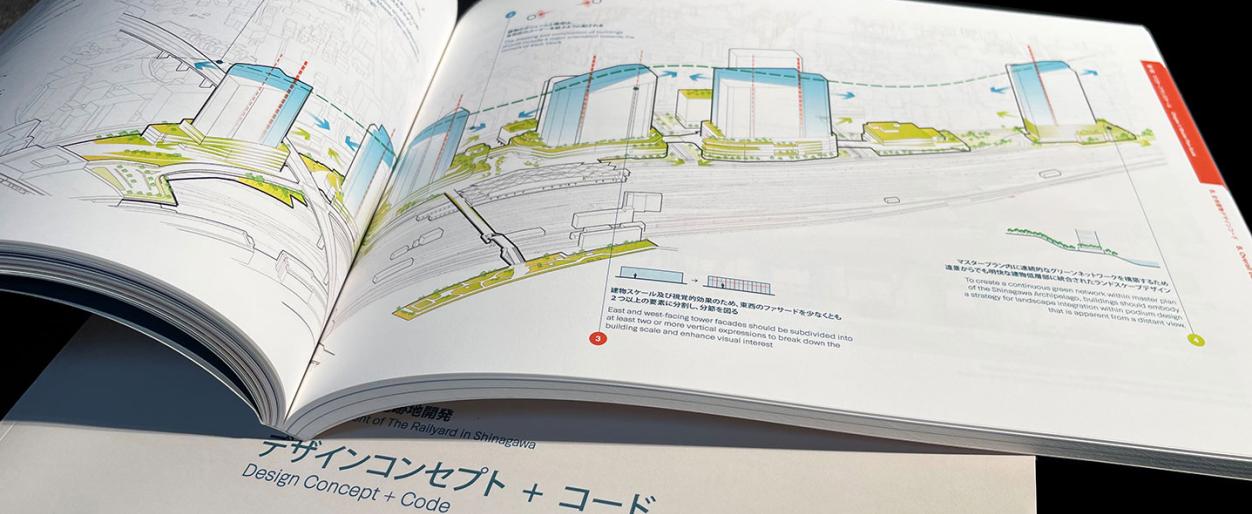 In Shinagawa, one of the most densely developed wards in Tokyo, a 1.6 kilometer-long rail yard cuts a swath through its urban fabric. Anchored by Takanawa Gateway Station, Tokyo's first new rail station on the Yamanote line in 50 years, the master plan for Takanawa Gateway City restitches the district with a vibrant mix of residential, retail, office, hotel, and cultural uses. The development is designed to foster innovation and public engagement across all of its buildings and functions.
A key deliverable of Pickard Chilton's master plan for the Takanawa Gateway City development was the Design Concept + Code book. Designed, authored, and illustrated by Pickard Chilton, the 200-page book outlines design intent and guiding principles for building composition, public realm space, lighting, landscape, and programming.
Organized into three chapters, each addressing a different scale, the book in both Japanese and English considers every detail, from the sweep of the plan's 1.6 kilometer-long promenade to guidelines for exterior elevator signage.
Entirely different from 'design guidelines' or 'form-based zoning' documents, the blending of a concept and code document creates a truly cohesive expression of unity and harmony in the district.