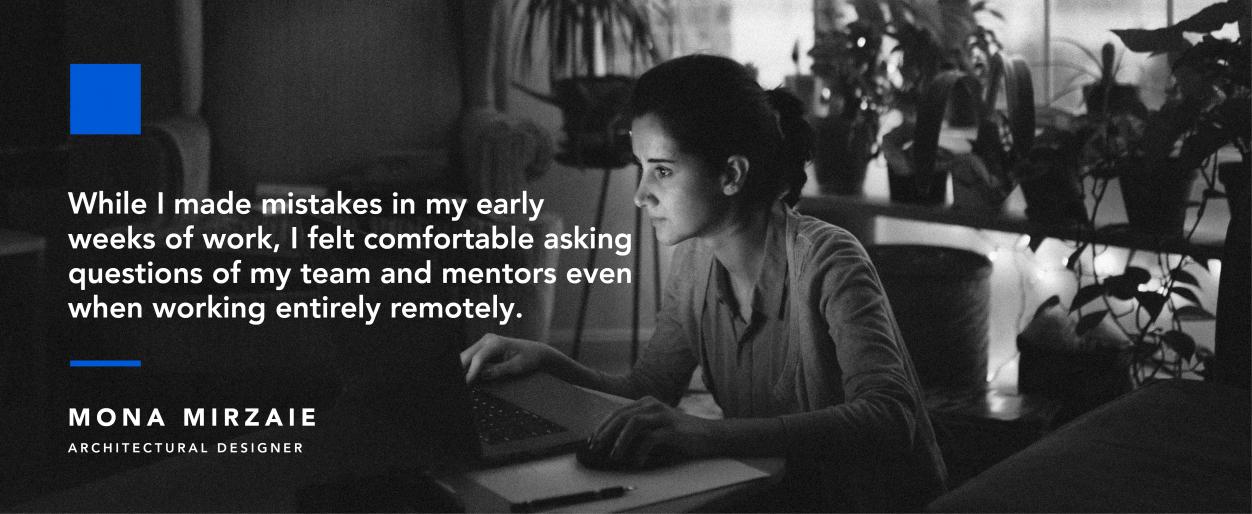 Joining the Remote Workplace
Mona Mirzaie shares her story as the first remote hire to join the Pickard Chilton studio during the Coronavirus pandemic
What was your first impression of Pickard Chilton?
I accepted the position with Pickard Chilton in March 2020 with the intention of moving to New Haven - just as the country was going into lockdown. At that time, there was significant confusion about the Coronavirus and how long lockdown would last. Upon being hired, Tony Markese and Stephen Harris set up a weekly call with me to check on how I was doing and to reassure me that I still had a place on the team. The calls were heartwarming to me during this time of uncertainty. Ultimately, we decided that I would begin working remotely from my apartment in State College, Pennsylvania and the studio would provide me with the materials necessary to get started. After a few weeks of lockdown, I was excited to start my new position and began working on April 12, 2020.
How was your experience joining the team remotely?
On the first day of work, I was introduced to many colleagues including my project manager, Adrienne Nelson, and studio ambassador, Ashkan Shirani. We had daily team meetings and a monthly happy hour where I started to get to know my teammates. I met every few days with my studio ambassador to ask questions and learn more about the studio. While I made mistakes in my early weeks of work, I felt comfortable asking questions of my team and mentors even when working entirely remotely.
What advice would you offer to new members joining the team?
Take advantage of opportunities to observe presentations, lectures or city meetings that are currently being held as digital events. Working on projects around the world, new employees are often not able to join these meetings or see how the design has been received. Observing firsthand the complexity of a design problem can provide rare insight into the project.