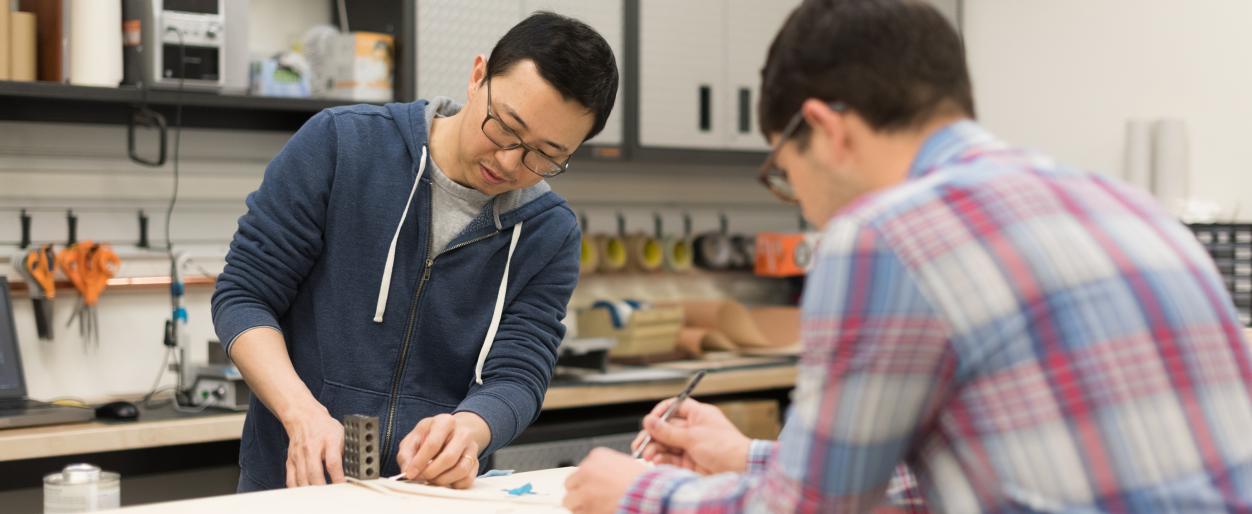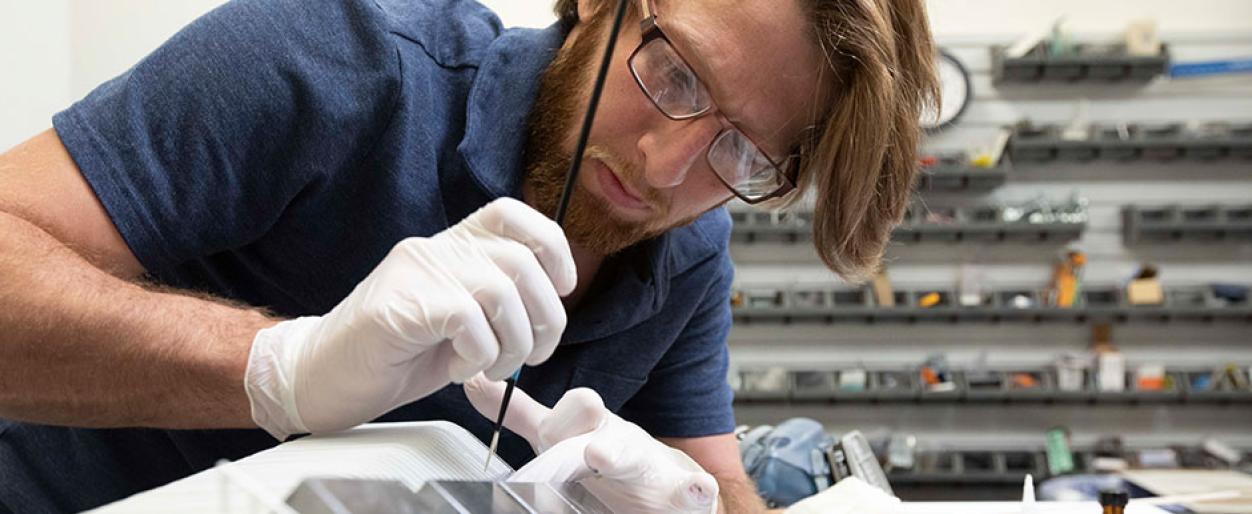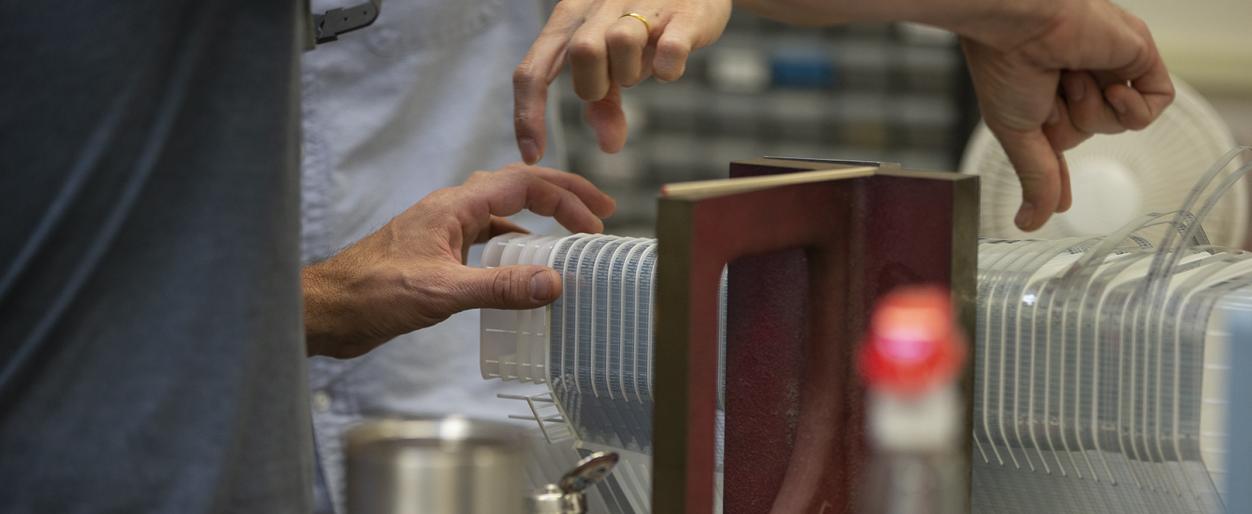 Bringing Complex Ideas to Life with Architectural Models
Architectural models are a powerful communication tool, a timeless skill in architecture with the extraordinary ability to bring complex ideas to life. Every member of the Pickard Chilton design team learns the craft of model-making, guided by the expertise of the studio's two professional model designers: Model Maker Andrew Ostrowitz and Woo Lee, Director of Fabrication.
A fundamental aspect of our work and practice, physical models easily communicate design intent to our clients while also providing our team with invaluable perspective for the discovery of new ideas and iterations. With over 3,000 square feet of fabrication space in our New Haven studio, Pickard Chilton is committed to design by making.
We sat down with Andrew Ostrowitz (AO) and Woo Lee (WL) to discuss their craft, experience, and unique career paths in architectural model-making.
Did you have an interest in making and craft growing up?
AO: From a very young age, I was drawn to construction toys like wood blocks and over time that blossomed into anything three-dimensional – from Lincoln Logs to Legos. In high school, I realized that I had minimal experience with a wider array of materials. I enjoyed ceramics and did basic carving but had limited knowledge of actual raw materials. I realized that I would need to master how to work with a broader range of materials to realize my visions and seized every opportunity possible to explore them. In college, I studied architecture for two years and completed a minor, but decided to transfer to visual arts. It was there that I was able to continue the 3D explorations I started in high school. It was during this time that I started to feel more skilled and versatile, and ideas that I was once unable to realize suddenly began to come to life.
After graduating, I started working at Kenneth M. Champlin Architectural Model Makers where I thought I would pursue product design. The hands-on knowledge and experience I received there became an invaluable foundation for my career. I was fortunate to work with a few great mentors and renowned architects during that period and learned many fundamental lessons that I still carry with me today including: "There is always a better way to do things."
WL: Growing up, I enjoyed many of the same building toys – Legos, Connex, Lincoln Logs, and Construx. I spent hours building new combinations and designs. My interest in craft grew as I got older. I entered college with an interest in fine art and majored in painting and furniture design.
Both skill sets came together when I began working at Kenneth M. Champlin Architectural Model Makers. As I learned, professional model-making is a niche career that is very different from the model-making process that architecture students learn in school. Beyond designing general concepts, we learned to craft the fine details of cladding, lighting, and landscaping. With a limited number of designers interested in focusing entirely on model-making, it is a rewarding career path that holds a special place within the architecture profession.
How have you seen our architectural model and fabrication process evolve over your time at Pickard Chilton?
WL: The technological advancements of 3D printing have become an important tool that has pushed our process forward in recent years. With the 3D printer, we can imagine and create even more than before. By leveraging digital city models and contextual data, 3D printing helps facilitate the production of the urban landscape within the model, not just the creation of individual schemes.
We are fortunate to continually invest in great tools which positively impact our design process. The table saw and the joiner are two of my favorite tools because you can feel that vibration and physical connection to the material: it's like driving a great car.
AO: Even with the advancements of 3D printing, it is important for us to keep the study model at the core of our process. We encourage designers to work with foam to measure, carve and create multiple schemes. Often a portion of a previous iteration may be revisited. Having the ability to look at the model family together and compare each iteration is extremely effective in determining the best solution.
Another advantage of having great tools is that we make safety a priority in our shop. The better the tools, the safer and more accessible our process can become to our team members.
What do you see for the future of fabrication and architectural model design?
AO: There is nothing more valuable than an architectural model to communicate a design. The ability to hold it, see it, feel it is an unparalleled experience.
Every tool brings an opportunity to improve our process and can provide a different technique to represent an idea. The real challenge is how to make the tools optimally work together – like a symphony. That is the part of our craft we are always working to perfect.
WL: We have a bright future as a valued part of Pickard Chilton. The shop is integral to the firm and the way our practice is run. We are always exploring new technologies and we will keep challenging ourselves to advance our design process to create the best solution possible.
Pickard Chilton is currently looking for an Architectural Model Designer and Fabricator to join our studio and model shop team in New Haven, Connecticut. Learn more about the position here: Model Designer and Fabricator.