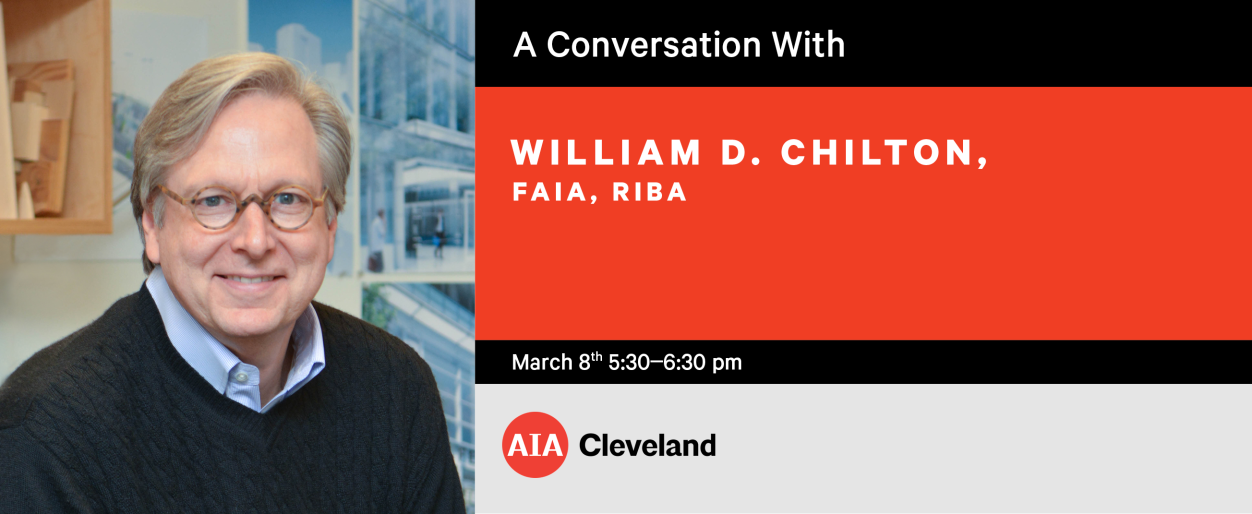 A Conversation with William Chilton FAIA, RIBA
Please join us for a conversation with William Chilton, FAIA, RIBA designer of the new Sherwin Williams Headquarters in downtown Cleveland and Jack Bialosky Jr., FAIA. William will give a brief presentation of the work of his firm, followed by a dialogue with Jack and questions from participants.
William D. Chilton FAIA, RIBA
Located in New Haven, CT, Pickard Chilton is a global architecture studio that designs innovative buildings and transformative environments that deliver value and inspire community. As a founding principal of the studio, William Chilton has directed projects for leading corporate and institutional clients worldwide, including Sherwin-Williams headquarters in Cleveland; CoStar's campus and Dominion Energy's headquarters, both in Richmond, Virginia; Eaton Center in Beachwood; the ExxonMobil Global Campus in Houston, Texas; and the CalPERS Headquarters Complex in Sacramento, California. Internationally, he is currently leading the 1.35 million gsf P140 mixed-use development in Stuttgart, Germany; KOE 37 project in Düsseldorf, Germany, Tokyo Midtown Yaesu, a 3.3 million gsf mixed-use high rise, and the 32-acre Global Gateway Shinagawa urban development, both in Tokyo, Japan.
Mr. Chilton received his Bachelor of Arts in Architecture from Iowa State University and Master of Architecture from the University of Minnesota where he has served as Professor in Practice. He is a Governor of the Urban Land Institute Foundation, a member of the Royal Institute of British Architects, and the American Institute of Architects College of Fellows.
AIA Cleveland
Cleveland
08 March 2022, 5:30-6:30pm